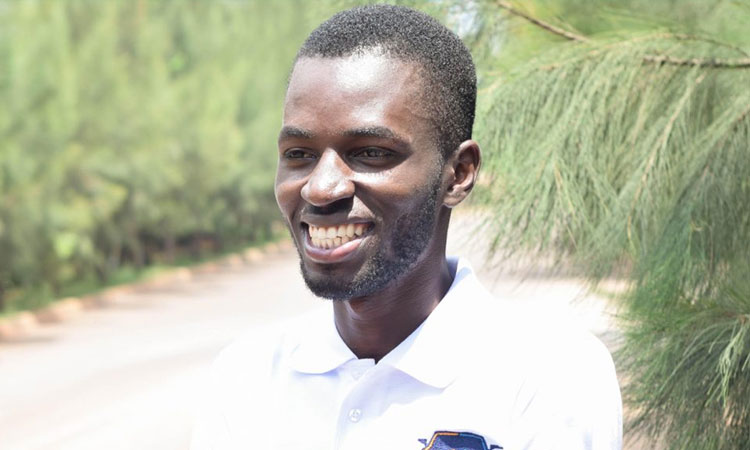 A pivot from a business-to-consumer (B2C) to a business-to-business (B2B) model helped Ugandan on-demand transport service RideLink grow its revenue says founder and head of operations Daniel Mukisa.
In April, Mukisa (pictured above), 25, was awarded the Revenue Growth Growing-Phase Award by the Anzisha Prize in recognition of how he posted the greatest financial gains in 2018 among other Anzisha Fellows.
Mukisa says he was "shocked" when he found out that he had won the accolade.
"I mean, there are so many Anzisha Fellows running very successful businesses out there and so for us to come top was, to say the least, is profoundly humbling and immensely gratifying," he says.
Mukisa's first venture was a logistics company called Transporter Corporation which he co-founded in 2016. The company offered a delivery service which made use of commercial motorcycles (known locally as boda bodas) and taxis.
"After this business wound up due to differences with my co-founder, my dream to make a contribution and fill a gap in my country's transport sector did not die."
"Our transport system at the time was really broken with unsafe, inconvenient and generally defunct public transport infrastructure. There was, in that maze, an entrepreneurial opportunity,"

Daniel Mukisa
B2C to B2B
In 2017 Mukisa registered and founded RideLink. The startup initially ran a B2C model — servicing the general public, rather than a B2B model where he'd partner with businesses themselves who would pay for the service.
Mukisa explains that the B2C customer acquisition costs were "quite high". This, he explains, was further compounded by the fact that the RideLink had "a lot of competition" from already established ride-hailing platforms.
"When we however, pivoted into a B2B model and focused on small and medium enterprises, we found an almost virgin market that was at times under-served or not served at all. We were able to acquire many customers quickly, standing out for our reliability and professionalism," he explains.
'300% revenue growth'
Mukisa points out that as of close of business in 2017, RideLink was generating over $37 000 in revenue, and by close of 2018 the startup was turning more than three times this figure — raking in over $140 000.
"This, in the context of my home country Uganda where the mortality rate of businesses is high, is no mean achievement and we give glory to the Lord for seeing us through. We would have been another statistic of the business mortality situation in the country," he says.
RideLink currently employs 25 people (both full-time and part-time). In addition, the startup has a driver pool of over 60 drivers. In all, RideLink completes over 11 000 trips a month and Mukisa estimates that over 37 000 unique users have used the startup's platform since inception.
To date, since launch, RideLink has raised $20 000 in funding. This, he says, has been through bootstrapping and one debt investor, Anzisha Fellow Yeli Paper Bags founder Andrew Mupuya who has last year committed $10 000 and has so far invested $2000 in the startup.
Mukisa says he intends to grow his company's customers by "a multiple of three".
"We also are launching a new product that shall be for the mass market. It's going to be the first premium taxi service for public transport in East Africa," he says.
He adds that he is looking to raise up to $5-million in the next three years to finance the premium taxi service as well as RideLink's on-demand transport service.
"This (funding) will be focused mainly on customer acquisition and growing brand presence across the East African region. We are currently raising capital for our soon to be released product which requires quite a sum to pull off," he explains.
He urges other young entrepreneurs to innovate around their products and see what customers are most willing to buy and be clear on what their value proposition is. Says Mukisa: "Targeted and creative marketing is key".
This story appeared originally on the Anzisha Prize's blog on 3 July. See it here.
The Anzisha Prize seeks to fundamentally and significantly increase the number of job generative entrepreneurs in Africa, and is a partnership between African Leadership Academy and Mastercard Foundation. Through Ventureburn, they hope to share inspirational and relatable stories of very young (15 to 22 year old) African entrepreneurs and the people that support them. [learn more]